MAKING OF BRAKEHAWK
Riding zip lines can be fun and exciting, but safety is a big concern. We here at BrakeHawk kept this in mind when we designed our BrakeHawk (patent pending) braking system. No more burning through bulky welding gloves or slamming into a bungee brake that leaves you with a hurting neck. BrakeHawk has been designed to be easy to use, safe, and affordable. The great thing about BrakeHawk is that almost anyone can use it no matter the skill level. Take some time to browse our product store and see if BrakeHawk is right for you.

I got hooked on zip lining as a kid in the early 80's way before it became the rage that it is today.
My uncle Bill had a woods with all kinds of cool activities that we would refer to today as "challenge courses." One of the things to do in the woods was to walk an ascending rope walkway to a tree house that was up 42' in the air. From there, we would ride a zip line between massive oak trees around the woods. The equipment was all homemade, designed by my uncle.
There was no online zip line retailer to buy from so he took a trolley made from a pulley he found in his barn, a rubber strap to sit on, and a rubber flap sufficed for a brake. Shoot, my uncle probably had half the fun figuring out how to make the equipment anyway! What great memories! Thanks Uncle Bill!
Fast forward to the year 2001, my wife and I had just built a house on nearly four acres.
One day as I was looking out my backyard, which gradually slopes down to a little creek, my thoughts went back to that zip line my uncle had in the woods. So I bought a 280 ft. piece of cable and strapped it to a big ash tree that grows beside the creek. I then pulled it tight at the other end with my pickup near the house. I used what was essentially a ski rope with a threaded chain link attached to the cable to stop the riders as they came to the end. I got a lot of enjoyment from seeing the smiles from the kids as I stopped them at the bottom with my make shift brake.
Now let's move to the summer of 2011.
I offered to help out a friend by delivering a set of windows for him to use in a big tree house he was building. My kids had been asking me for years to build a tree house in our backyard, but I told them we didn't have a big enough tree with the right limbs for a tree house. Well, I guess they had been asking for so long that the trees grew to meet their request. I came home from my friend's house that night, grabbed a flashlight, and found that perfect tree for the tree house. After picking up material the next day, I started building the tree house on Father's Day weekend.
It was the kind of project you have trouble figuring out who it's for, the kids or dad. Not long after the last nail was driven, I started thinking about my uncle's woods again. So I set up a 140 ft. zip line that went from the tree house to a big walnut tree. While I was at it, who feels like walking from the house to the tree house, so up goes the 240 footer connecting the two. 4 zip lines and 800 feet of cable later, my yard was starting to look like a giant spider web. My dilemma was my "ski rope brake" wasn't going to work with these zip lines. It was too high off the ground.
So I got on the Internet in search of a brake I could use. I couldn't believe my options were to either give riders a pair of gloves to grab the cable or to attach a bungee brake to the cable that wouldn't let the riders get to their destination (the platforms I had built on the trees where the zip lines ended). So I took a piece of aluminum, some rubber, and figured out how to attach it to the zip line trolley. That's when BrakeHawk was born.
Today
As I'm writing this today, I feel blessed by God to have the opportunity to help people enjoy the activity I've been doing for years. Knowing that BrakeHawk will help enthusiasts get the most out of their zip lining experience does my heart good. Thanks for visiting our site. Now go do some hard core zip lining. Just remember to take a brake!
God Bless,
Randy Headings
-Developer of BrakeHawk
ABOUT THE FAMILY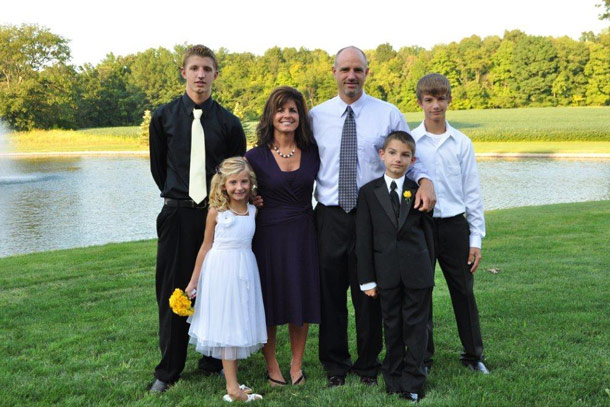 Randy Headings and his wife Twila celebrate 22 years of marriage.  They raise a family in the Plain City, Ohio area where they have lived their entire lives.  Randy and Twila have both been blessed with a heritage that values hard work, close family and a strong Faith in God. They have four children; Tyler(16), Trevor (14), Tanner (10) and Rylee (7).
https://brakehawk.com/wp-content/uploads/2020/01/Brakehawk-zip-line-braking-system-logo-main-300x100.png
0
0
Eric Miller
https://brakehawk.com/wp-content/uploads/2020/01/Brakehawk-zip-line-braking-system-logo-main-300x100.png
Eric Miller
2012-07-17 03:39:13
2022-04-26 12:08:33
About Us